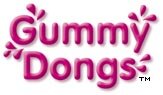 We'd like to introduce you to the newest members of the Juicy Jellies" family - the edible, vibrating Gummy Dongs! To better know our new "characters", we have prepared a short "film" featuring Dong Pickles and Daisy Cups in "Aisle Be Seeing You" built using Macromedia's Flash® technology. If you know you have the latest Flash plugin, please click on Dong Pickles. If you don't know or aren't sure, please click here to go to Macromedia's web site. The plugin is free and takes very little time to download and install so we strongly encourage you get the plugin in to see "The Continuing Adventures of the Gummy Dongs". Please check back periodically to see new episodes featuring all the Gummy Dongs characters.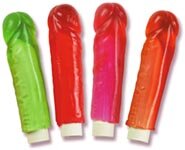 Each Gummy Dong has it's own distinctive flavor and character. There are four flavors to chose from: (l-r) Sour Apple, Strawberry, Watermelon and Peach. And they are all SUGAR-FREE! Each dong has a vibrator inside so even when the Gummy is gone, you still have a wonderful vibrator!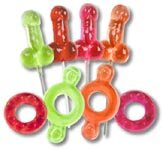 And by the way, Gummy Dongs aren't the only edible products in this line, we also have Gummy Cock Rings and Gummy Suckers - also available in the same sugar-free flavors!

To order one of our wonderful Gummy Dongs, click here. While you're there, please look around at some of the many other quality products we offer.
---
© Copyright 2000 L&L Distribution. Juicy Jellies" and Gummy Dongs" are trademarked and are the sole property of L&L Distribution.